The NIXZ Plugin is a browser plugin that can synchronize profile information with your ATS.
When you are viewing a Linkedin (or Xing) profile, the plugin bar appears on the right side of your screen. NOTE: The plugin ONLY WORKS IN CHROME.
With the NIXZ Plugin, you can:
see if candidates are in your ATS
Use the settings for easy use.
Pin the extension to hide/show the plugin bar:
Pin the NIXZ Plugin to hide and show the plugin - click on extensions (the puzzle piece in the top of your browser) and "pin" the NIXZ Plugin
Hide/show plugin - press the "N" (NIXZ) icon at the top of your browser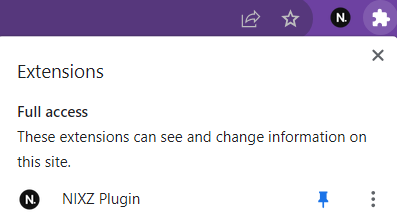 NIXZ Plugin licences are offered through our partners. The instructions how to apply for the NIXZ Plugin licence and connect the plugin to your ATS vary per ATS. Choose your ATS below:
If you have any questions, please do not hesitate to contact us at 070 204 22 25 or via email to support@nixz.io.